Talked to Tony N
He's doing well. He's programming in C#, and doing web programming.
They only worry about IE and FireFox, which is a relief.
All I test for on this website IE, Firefox, and now, Safari. Netscape is just too rough to code for.
Anyway, Tony's found the Lord, and quit drinking, which is cool.
I believe whatever leads you to doing the right thing in life, is the right thing to follow.
So, he's doing GREAT! He sounds GREAT! He is GREAT!
And I am glad I called my old friend.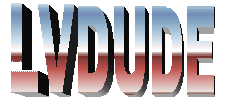 Monday, November 5, 2007 2:05:21 AM, From: jim, To: Stories