I must be terrible...lol
I can't even get a 'yes' when I offer to buy people lunch AT A STEAK and LOBSTER house thats only 200' away!
I got rejected today. Now thats pretty bad. I must be disgusting. Am I that bad?
Its no big deal.
I can eat lunch with a lot of people here. Just not the ones I work with.
Me, I think good PR is very important.
We never know when the tables will turn, and it is a very small world.
I believe that networking is important too, even if I don't really like the people I'm networking with.
I want to leave where I'm at, with at least a handful of email addresses and phone numbers.
The networks I like are based on trust and a promise.
And I people in my network to know, that if I'm ever in a position of power, I'll pull them in.
Thats kind of hard to do though, when you can't even have a power lunch. lol.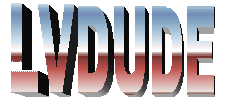 Wednesday, September 19, 2007 5:33:27 PM, From: jim, To: Stories