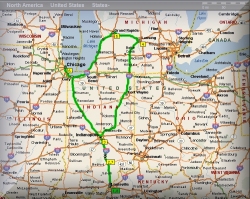 Got the air couch in the the camper and we're all packed up.
The maps are loaded and we're ready to truck.
Friday Night

Its Woods-n-Water Kampground, Columbus, Indiana (I65x54,1 hr)
We're hooking up with Rod, Resee and Jessica for a fun filled night of Corn Holing.
Saturday morning

We're headed to Indianapolis (I65,1 hr)
We'll check out their downtown area.
Saturday afternoon

Lansing, Michigan (I70,4 hrs).
While there, we'll reminisce. Becky used to live there.
I'm going to hear a lot of,
"OOOH, Look, thats where I got my lunch box"
. So cute, haha.
Lansing has a sister processing center for where I work, so most people at work think I'm crazy.
We'll either find a motel, a campground or sleep at a truck stop.
Sunday morning

Grand Rapids (I96, 1 hr)
I'm not sure what we'll see there.
Sunday afternoon

Chicago (I196/I94, 3 hrs)
The route will take us along the shores of Lake Michigan.
I want to hang out at the Chicago navy pier on Lake Shore drive (SR41) .
Monday Morning

Back to Woods-n-Water Kampground, Columbus, Indiana (I90,I65x54,4 hrs)
Back with Rod and his folks.
Monday Afternoon

Back to Louisville (I65, 1 hr).