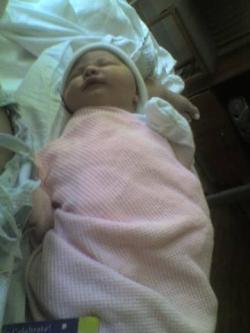 Another visitor has arrived.
Her name is McKenzie Jackson.
She's almost 9 pounds, the daughter of Renee Spurling and Jonathan Jackson.
She's Becky's grandaughter, and Ruth Czachorwski's great grand daughter.
And she's beautiful.

One wonders what will she see in her lifetime.
What beautiful things will come her way?
And soon, after we're all laid to rest, she will have her first grand daughter,
and she too, will be beautiful.
And she will come into a world so wonderful, we can't even imagine it.