It was a chatty day
Got up this morning to brush up on my stock jargon.
Chatted with MIKEY!!! YEAH!
Wrote a program at work today, to create test data, then tested it.
Writing programs from scratch is fun! YEAH!
Got home, went to Sam's and Walmart to get Becky a homeless cart...
You know, one of those carts that have two wheels.
She needs one to shuffle laundry up and down the floors here.
We also picked up an air mattress for Rod.
We popped his while camping...lol.
Swung by Rod's house, but Rod wasn't home. awe.
We dropped an air mattress off anyway.
Got home, and webcamed SONNY!!!! YEAH!
We spent about an hour or or so enjoying pleasant conversations about the whacky worlds we've been thrust into this last month. He's at Circus. I'm in Louisville. Everything is whacky!
Got off, and webcamed GMa!!! YEAH!
We chatted for some time, then Paul came down and got her microphone working, and life was GREAT!
We topped off the night by swinging by Hilton's bar next door!!! YEAH!
I wanted to try a shot of their famous Kentucky Bourbon.
It was a beautiful bar, all woodsy, plush and beautiful.
But, they were busy, it would have taken too long,
So, now its BED TIME!!! YEAH!!!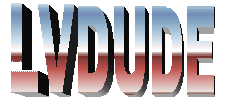 Wednesday, July 25, 2007 11:22:12 PM, From: jim, To: Stories