.Talked to Ajilon
Sonny's going to take care of Squirty.
He's not really a dog person...he likes cats!!!
Now, me, I just don't understand that.
CATS ARE WORTHLESS...hahaha.
A dog:
- loves everything you give him to eat.
- will lick your feet, no matter how sweaty.
- will warn you when ugly people approach the house
- AND, they'll drink beer with listening to country music.
Cats do what, exactly? hehehe.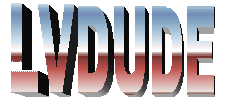 Monday, June 11, 2007 10:25:07 AM, From: Jim, To: Stories