To go or not to go? That is the question?
Looks like we're pushed back another week.
The start date was supposed to be the 11th.
Then it was pushed up to the 18th.
Now, it may or may not be pushed up to the 25th, depending on what we hear today.
I'm just rolling with the flow. haha...
We've said our goodbyes 2 times already.
By the time we say our last goodbye, we'll be hearing "Okay already!!! GET THE $&%@* OUT OF HERE".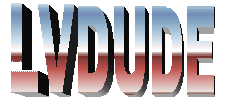 Friday, June 8, 2007 8:06:24 AM, From: Jim, To: Stories