Added a decimal/binary/hex/octal conversion to my
I threw in a color representation for the heck of it.
I MUST BE BORED! LOL.
Waiting for things to happen is a miserable thing.
Right now, I'm waiting for:
- A word back on my refinance. The loan agent keeps messing around.
- Yellow Book to come out. The Yellow Book is almost 2 months late.
- A response back from the resumes I sent out.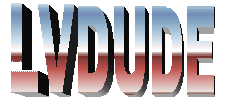 Tuesday, May 8, 2007 3:14:28 PM, From: Jim, To: Stories