We stepped outside to see why the sunset looked re
Sure enough, there's a forest fire somewhere. I can smell it. Whats worse is, its toxic to me.
What gets me is, from a distance, you can clearly see an brownish orange cloud over Vegas.
I can feel it. My eyes, my lungs, my sinuses, even my skin can feel it.
People talk about it. IT EXISTS!!!
But the news doesn't say one darned word about it!
To me, that says the news isn't about reporting what we need to hear.
The news, instead, reports unimportant sensationalisms.
The news said earlier that 30,000 people die in Clark County each year from poisoning.
They were saying many of those died from mixing drugs.
SO, I did my own 7th Grade Math.
I figured there's 2,000,000 living people living in Clark County, and the average person lives for 75 years.
SO 2,000,000 / 75 = 26,000 people die in Clark County every year, and Channel 8 said 30,000 people die in Clark County from poisoning. Wow. Thats just bad math!
They're numbers could be correct, if the average life span in Clark County were something like 40 years old.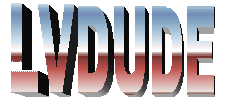 Monday, March 26, 2007 6:58:50 PM, From: jim, To: Stories