Our first notary order came in tonight
It was 7pm, and it only took about 40 minutes.
I charged $20 since Becky and I are both (embaressingly) new to the notary field.
They must have found us in the yellow pages, somehow...
Whatever, I liked it A LOT!!!
The signer were a little crabby...they expected us to actually instruct them on how to fill out a Pensylvania Power of Attorney form. Wow..I could barely read it...haha.
I told them, as notary agents, our job was to simply verify, and optionally take an oath of a person signing a documents identity. That we weren't even supposed to read the document, and above all, we could not give legal advice.
Still, though, I gave my idea of what the form wanted. They thoroughly botched it. I think she may have typed it in!
Normally, whenever we get there, we would have charged $70 for the notary after 7pm.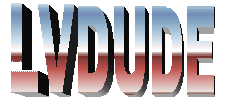 Friday, March 9, 2007 1:19:59 AM, From: jim, To: Stories