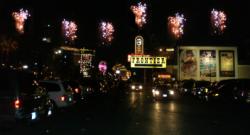 It was cold in the parking lot in front of the Frontier. We found a parking spot, almost right on the Strip, and right around 9pm. I thought that was AMAZING! We had to hang out for the next three hours for the big fireworks spectacle, so....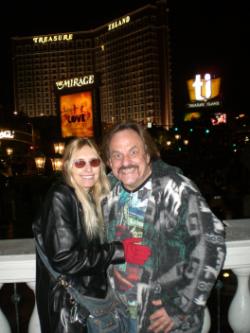 Becky and I walked up and down the Strip.

We popped into the Frontier, Venetian, and Treasure Island. Compared to the other New Years, the crowd was as thin as Charmin. But like I said, it was f-f-f-f-f-r-e-e-z-ing!
Finally the time came...midnight on the Strip.

I futzed with my new Christmas camera for a few moments, the looked up, and it was over! Wut thu hay I hooted, and I'm not an indian. 2007 had to be the shortest New Years fireworks display I'd ever seen, lasting only 6 minutes long.
The things I enjoyed this New Years were:

The scantely clad girls.
The guys in heavy fur jackets.
The people with flashing balls in their mouths.
The horse cops.
And the all-slapped-give-out drunks.