It's happenning...getting adjusted to Las Vegas.
I was afraid that, after coming back, we might get lazy and we have.
- The air here has slowed me down to a turtles crawl.
- The comfort levels indoors are high with cable TV and high speed internet.
- We have plenty of time and money.
All those things have put our ambitions at an all time low.
I keep thinking this website will take off.
It still is the easiest place to advertise. I have a list of 14 other sites that advertise in Vegas. None of them work well. Getting search engines to see my keywords just isn't working the way the documentation says it will.
They lie they lie they lie, lol.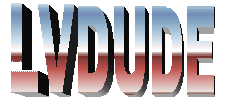 Sunday, April 2, 2006 12:41:12 PM, From: Jim, To: Stories