Trip Chronicles
We spent four days at Charles Kelly's place in Forest, MS.
Every one was friendly, and I was recognized right off the bat. Oddly enough, everyone there was drinking in the morning, and everyone asked me if I quit drinking. Its strange, to hear my ex tell me she's glad I quit drinking, while driving off at 10am with a Vodka Smirnoff between her legs. Life is full of ironies. Anyway, everyone there starts drinking at 9am.
Outside of that, we mainly sat around for 4 days at Charles's place. Charles and Renee are really nice people!
Ruth and Ricky finally came over, and we had a GREAT TIME! Lot's of laughs and smiles.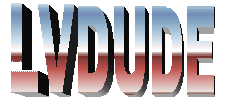 Saturday, February 4, 2006 7:17:27 AM, From: Jim, To: Stories