Sitting up, late this night.
Thinking about coming back to Vegas. Thinking about all of the favors I've done there.
One good deed every day can add up to the thousands after years go by.
I'm saddened that I'm not worth a free phone call during the holidays.
Some think this planet might be another planets hell.
This planet is simple and beautiful. People make it hell for each other.
John Lennon couldn't spread the truth with his song (Imagine).
People just keep blowing each other up, stealing, politicing land away from others.
If only people could see, the harm they do others hurts themselves.
We only think we are individuals. We can't see that we are components of a single life force.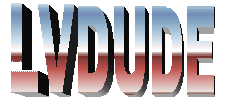 Monday, January 23, 2006 4:35:43 AM, From: Jim, To: Stories