When you work, work hard. When you play, play hard
That would be my formula for a good life.
I wanted Becky to be involved in the evolution of this website.
We went to Walmart and bought some cheap desks. Now they are sitting side by side in the bedroom.
I want Becky to help me accomplish something cool. Any female can give birth to a child. Thats as natural as breathing.
Very few people give birth to ideas.
She's already helped me bunches and she doesn't even know it.
Becky's biggest contribution to this sites development, is her not understanding how to use it. |
Everyone has talents. I need her talent to finish this site. If this site can be broken, she can show me how.
She'll try to do things on it without reading the instructions. She doesn't see the functionality of this site, she see's the flash and pizazz of it.
Henry Ford was a genius of sorts. I think they called him "The Father of the Assembly Line".
His accomplishments wasn't so much the Ford vehicle, it was the assembly lines where the Fords were built. To make the assembly more efficient, he didn't study the hardest worked, he studied the laziest one. The laziest people figured out how to do the same amount of work, with the least amount of effort. They thought about what they did.
He turned Mass Production into the science it is today.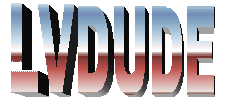 Wednesday, November 23, 2005 3:36:16 AM, From: Jim, To: Stories