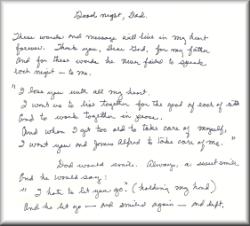 While creating a log called Obits, I came across a letter that is very special.
This letter was written by my Mom after my Grandfather died.
Good Night, Dad.
This message will live in my heart forever.
Thank you, dear God, for my father and for those words Dad never failed to speak each night - to me.
"I love you with all of my heart.
I want us to live together for the good of each other and to work together in peace.
And when I get too old to take care of myself I want you to take care of me".
On his last night,
Dad smiled, always a sweet smile, and said
"I hate to let you go" (holding my hand)
And he let go and smiled again, and left.
My Mom was a beautiful person.

I remember leaving her hours before she passed on. I kissed her, told her I loved her so much. She waved at me with one of those red, glowing sensors on her finger and smiled so big.
I never thought she was going to die in her sleep hours later. My wife (Ruth) and I had prepared a room for her at my house, for when she got out. Mom seemed to get around just fine.
But I was so busy in those days. I had to reinstall almost all of the applications at Caesars that month.
Maybe I saw, but I didn't notice that my Mom, my best friend in this life, was slipping away.
Mom died 10 years to the day, after her husband (Dave Leblanc) died. Dave, Mom, and my Grandfather died just before their insurance ran out.

Dave was my step-dad, and what a great guy he was.
Almost all of the people I loved from that period are gone now. Only my brother and I are left to honor their memories.