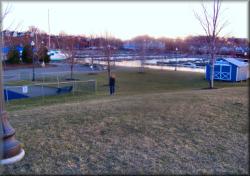 After I got off work on Friday
,
Becky and I decided to see Lake Erie. It's about 100 miles north from here. My step mother (Lottie Cutlar) passed away there last week, while we were in Vegas. It's amazing how much can be seen within a few hours of driving.
BTW-My Grandfather burned this into me. Every Sunday, we'd go to some park, or forest near Paducah, Ky.
Thanks Grandfather !