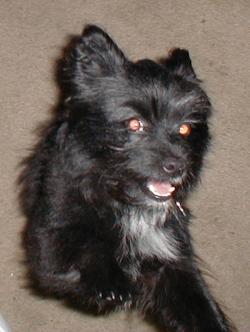 What a wonderful friend !
He got out of his running cage, out of the backyard, and as is so predictable of him, he ran up to Mountain Vista.
Rico, my neighbor, did a search and found him.
He called animal control to scoop him up.
He went out in a blaze of glory.

He got to see beyond the boundaries of his universe.
He sailed into the horizon and fell off the edge of the Earth, so to speak.
He made it to Mountain Vista !
We had a toast to him today.

We celebrated his life. Its great he lived enough to be loved.
I'll miss playing fetch with him, and playing rag drag.
I'll miss his getting jealous whenever I'd hug Becky.
In our short time here, it was great to have him as our guest.
It was great to have known his personality.
We loved him.
He was one of my best friends.