I sent some flowers to Ruth (my ex-wife
)
in Mississippi
. She's not going to survive much longer -
gbhs
.
While I was on FTDs website, I thought we'd send some flowers to Becky's Mom (Gma). Well, I got a call from the Mississippi FTP florist, who jokingly said in a strong Mississippi accent "
I would love to travel to Las Vegas to deliver these flowers, but can you afford it
?". I said "
I thought FTD employed a naked guy with wings on its head and feet to deliver flowers
". I cancelled the order.
Meanwhile, I got a call from a friend who is in a Asia.
He called saying "Jiiiim, Heeeeeelp.".
I can't resist that.
In all of the excitement, he left his credit card in an ATM, and was stranded with just the money he had in his pocket. I took the morning off and wired him some money. I didn't have time to replace the flower order though. Becky went on to finish what I/we started earlier...getting some flowers for GMa. Later that day, while at the store getting some sliced ham (half of which I ate in the checkout line),
I'd realized I'd made a BIG mistake.
I'd gotten flowers for my ex, and we'd gotten flowers for Becky's Mom, but
I'd overlooked the most important person in my life...Miss BECKY
. Now this is really wild, I bought her some Starlight Lillies, a little Koala Bear, and a nice
M
O
ther
's Day Card and when I gave them to her with ham on my breath, she hugged me and started to cry. I asked her why. She said nobody had ever given her flowers on Mother's Day before. Being stupid-like, I said "
But you have four kids and you're 100 years old
". That snapped her back.
The night before, Becky got a call from Renee,
and when Becky was talking on the IPhone, all I could here is what sounded like geese cackling (saying something about ghoulash).
On Friday night,
Becky got another call and it sounded like geese cackling again, so I assumed it was from Renee. This time it was from Jennifer. She was all high on life and I'd swear
if she had rockets in her heart, she'd already be past Pluto
. Jennifer put on GMa, and she was all high on life. During that call, a florist delivered her Mother's Day Flowers.
Now here's the kicker.
A voice in the background sounded just like Ruth. It had that strong Mississippi drawl. She was a friend of GMa's.
Friday was a very good night.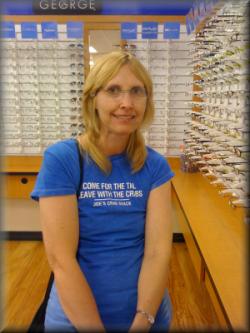 Oh, Becky got some new gradient transitional lensed glasses.
They were the best lenses available from Walmart, and I realized I would be taking a gamble (it would probably be the first time Becky had ever seen me clearly). I worried about having to explain to her that my hair wasn't really fuzzy. She cried when I bought them. hmmm. Coming home,
I decided to take I76 to I79,
but I76 didn't have an exit for I79. Matter of fact,
it didn't have any exits for 30 miles so we decided to go to Cleveland
. But I had second thoughts when I realized I had YooHoo from an exploding can all over me. I was so sticky. Instead
we went to Beaver Falls
, which is a wasteland of dead mills and factories.
From there, we went on to Richland
, which consists half of mansions, golf courses, and elegant cemetaries and the other half abandoned houses, shops and greenhouses.
We stopped at this little pub name "Tilts"
. I'd heard about their bands from a guy at work. The bartender was almost impolite at first (we were outsiders), but after a few small conversations, she warmed up and started bringing us jumbo shrimp. Becky had
the nastiest Slo Gin Fizz on this planet
.
Being a gentleman, I drank half of it
and had the bartender fill it back up with 7-up (what a guy!).
And, that's my long, drawn out, over embellished, never ending, run on story with
colors
, for this week, as I see it.
---yawn