Lynne's Café on Baxter Road

Here, you get fresh veggies, unique entrées and extremely friendly service. A waitress here sat down at our table and told us that the locals read 'The Leo' to find all of the happenings around Louisville. Its amazing, the number of name bands who just slide in and out of this place! Counting Crows is playing just 5 blocks away next week.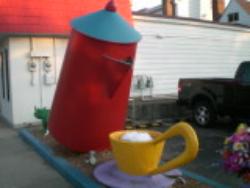 I really don't get why anyone would pour beer from a pitcher into a coffee cup.

Thats just disgusting. But another sign said that management isn't responsible for items left in the coat room,
and there is no coat room. So, thats it, they're crazy, and they're lots of fun!
Lynnes Cafe is hosting an ugly lamp contest. The person that wins the lamp contest gets free breakfast for a year.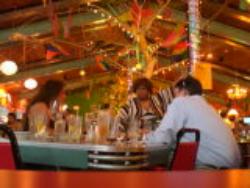 Bardstown Road is the place to go in Louisville.

Louisville is all about small businesses.
They're motto is 'Keep Louisville Weird'
.
They like the chains here, but the push is to keep the Mom and Pop stores open.
I just think thats GREAT!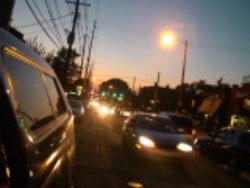 Bardstown Road Houses

Musicians and other talented people live in houses along the road. Most of these old homes are residential, but also host some kind of business. I think I'd like living in one of these, and maybe have a Tarot Card reading / Web Site building combo in my living room. A customer would enter, I'd go through some a beaded curtains and ask them, "What would you like today? Would you like a website built, would you like to know your future, my sweetheart also does manicures, if you'd like that.". That would be cool.