I think what I'm seeing here in Las Vegas is two families going their separate ways. We may never come back to this house that I have called my home for 25 years, and we may never live in Las Vegas again. It looks like Gma, Paul, and Jennifer may be going their own ways. Jennifer will be living with us soon. GMa may be finding her own place to stay. All the memories their house and my house have stored in them will be lost to another owner. Its almost over. Things will never be the same again.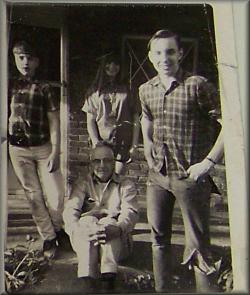 I have this old memory of Christmas
I am 8 years and its 1964. Kelly and I get up early, admiring the Christmas tree with all of the presents under it. Mom, Sonny, Linda and Dad wake up, and we open our presents. Then we get dressed up, preparing for our second Christmas at my GrandParents house. There we see Grandmother, Grandfather, and Uncle James. We open our presents and have a BIG Christmas dinner, with stuffed turkey, yams, and real mashed potatoes.
I think life is baffling to all of us.
We wonder why anything happens. We may think we are in control, but time is the gift that keeps us humble. Everything crumbles and turns to clay.