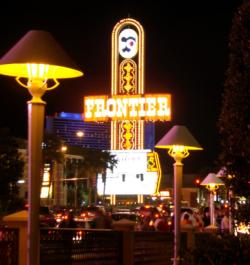 The New Frontier has been call a lot of names:

The Pair-O-Dice (1930), Ambassador Club (1936), 91 Club (1939), Last Frontier (1942), The New Frontier (1955), The Frontier (1967), The New Frontier (1999).
Sometime in July 2007, the Frontier will become The Lost Frontier.

The doors will close forever, and with them will go the last of the Howard Hughe's Casino icons.
Phil Ruffin, the Frontier's current owner, sold the New Frontier in May 2007 for $1.2 billion.
Please feel free to post your comments about the Frontier.