Becky and I were getting cabin fever, so we took a ride down to IKEA in Renton.
We'd heard about it from a lady in Target, and she wouldn't shut up about it.
She's probably still at Target talking to us about it...haha.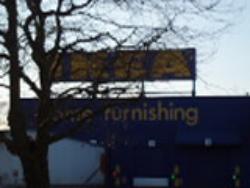 IKEA is gargantuous furniture store, with a unique personality.

Most of the stores items are imported, and have a very low price tag. For the smaller items, its like a treasure hunt.
Once you hike into the store from the parking lot

(gosh, my feet are so sore), you come to an entrance inside a warehouse looking thing.
There are maps showing you the winding paths through the store, and the shortcuts between the different departments. It seems the maps all have the tops facing north, which would be cool if you had a compass, but I found I kept having to turn them upside down or sideways in my mind. That alone will make you feel drunk after an hour of walking. I didn't take the time to mastered it.
The furniture was incredible for the price.

Most of the items were unusual. From the kitchen to the home office, they had furniture for all the rooms in a house. I think I liked their decorated bedrooms the best...they decorate a small bedroom where everything in it is for sale, even the things on the shelves. You pick up something off a shelf, and find a tag on it that tells you which department its stocked in. You write that down, and find its shortcut on one of the maps.
IKEA is probably the first store I've seen that didn't have isles.

The stores's lay out seems to be designed for you to take your time. I think you are supposed to get lost in it. There are shopping bags everywhere throughout the store, so there's no reason to go back to the store's entrance.
A cafeteria is part of the store, somewhere near the exit.

I liked the idea of going into a restaurant before paying for our merchandise. It just seemed to make sense. Becky had the chicken marsailes plate, which I thought was gourmet. I had the swedish meatball plate, which was like eating a "Hungry Man" TV dinner. The soda fountain had imported varieties on tap. The deserts, well, I forgot what they were called, but they were very good.
Finding the stores exit (and we though we'd seen everything)
Going to the check out registers was yet another surprise. We found a shortcut, went through a wall, and it took us into another warehouse. It was stocked with
"As Is"
items that were marked down 50%. Normally, thats where I'd start in a store, but we were exhausted, and just wanted to hike back to the truck.
I think if we were to go in again, it would be earlier in the day. It would have made a nice day trip.
NOTE: They didn't have any inflatable furniture, darn it!